An innovative concept known as ally-shoring has recently come to the forefront as a trade strategy with the potential to transform the North American supply chain. Developed by American economists and adopted by the US-Mexico Foundation, ally-shoring outlines a path to build a more resilient economy in North America, boost economic recovery across the continent, and strengthen democracy in the region. This strategy builds on the foundation of trust, cooperation, and interdependence that has existed since the start of the industrial era between Mexico and the United States to help the region adapt and prepare for the future.
What exactly is ally-shoring?
"Ally-shoring describes the process by which countries rework critical supply chains and source essential materials, goods, and services among and between trusted democratic partners and allies, with a focus on investing in the short and long-term relationships that protect and enhance joint economic and national security." (US-Mexico Foundation)

Recent challenges arising from the world health crisis have revealed the United States' overdependence on China and the need to rework global supply chains and reduce distances in these. At the beginning of the pandemic, the US experienced a personal protective equipment (PPE) shortage due to manufacturers being located in China. Very quickly, international companies in Mexico, including GM and Aramark, adapted their production facilities to produce PPE. This is just one example of how the United States can partner with Mexico, leveraging its existing infrastructure, human talent, and technologies to create synergies and more agile supply chains in various industries.
An ally-shoring strategy also dovetails with and complements changes in trade regulations and objectives outlined in the USMCA. New rules of origin requirements for automotive manufacturing in Mexico require supply chains to adapt and be reworked. Fortunately, the country already has robust and mature supply chains in this and many other industries, including medical devices manufacturing, as well aerospace, and electronic manufacturing in Mexico.
To fully leverage these resources, a first step in ally-shoring includes mapping out the size, scope, and capacities of existing and potential businesses in Mexico to pursue development, co-production, and sourcing across transformational sectors. Another step will be to further strengthen existing trade facilitation mechanisms, such as IMMEX in Mexico, and implement a smart border plan and advanced manufacturing processes. By combining both countries' knowledge, technology, and resources, the possibilities are endless. They can even help develop new, sustainable, clean, and green technologies and systems to meet global climate change commitments.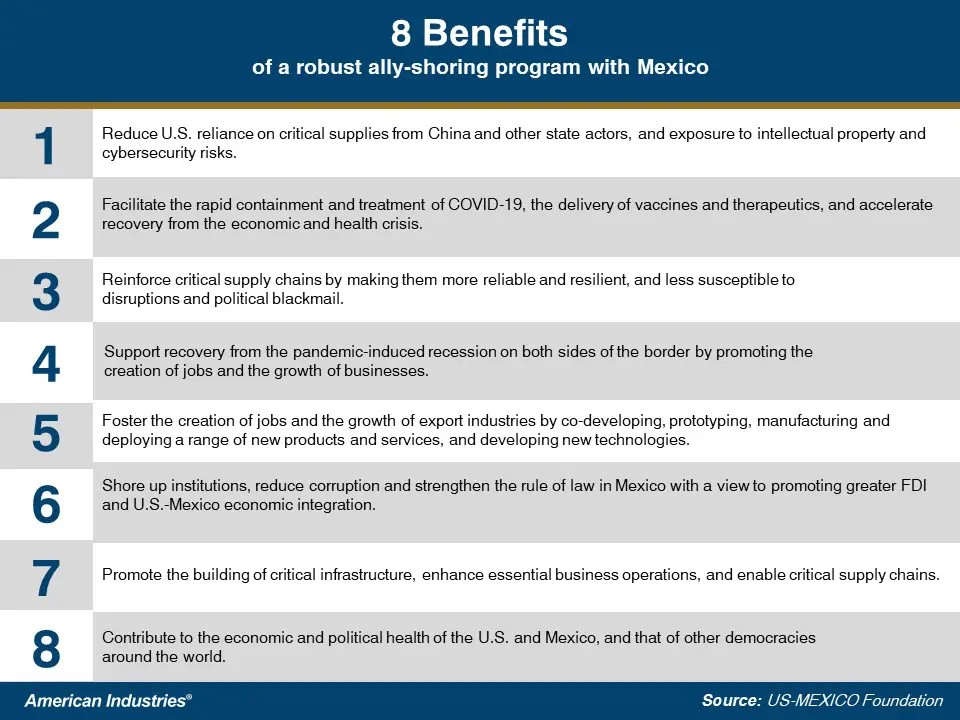 Though the world and business have gone through some difficult and drastic changes over the last year, they have also opened up a new world of opportunities for strengthening cross-border ties and creating more sustainable, socially conscious, and profitable companies. If you are interested in exploring this concept further or would like to start up business in Mexico, it is a good idea to talk to a provider of shelter services in Mexico. This ensures that you won't be starting from zero when relocating or setting up operations; instead, you will have the existing foundation of their decades of experience, on-the-ground knowledge, and trust built with stakeholders across the country, especially in Mexico manufacturing.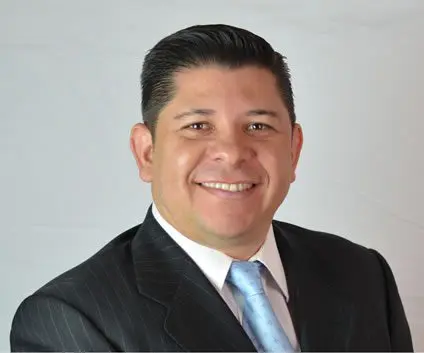 By Adán Gómez | Business Development Director | American Industries Group®