To promote economic development, 50 years ago, President Gustavo Diaz Ordaz implemented the program commonly referred to as the IMMEX program (formerly known as the Maquiladora program) aimed at facilitating foreign direct investment. Home appliance manufacturers were some of the first companies to set up business in the country, followed by automotive and aerospace manufacturers, setting the foundations for Mexico's manufacturing excellence.
Today, the IMMEX program continues to offer tax benefits for companies manufacturing in Mexico and exporting their products abroad, allowing them to take advantage of numerous cost benefits. Because of the strength of the automotive industry in Mexico, the Chihuahua area has a well-developed supply chain and capacities in precision manufacturing and lean manufacturing principles. Combined, these two factors have created a robust talent pool for the aerospace industry in Mexico.
Companies looking to improve quality and throughput while lowering costs should begin exploring the Mexican aerospace opportunity and consider moving a portion of their engineering and manufacturing operations to Chihuahua, Mexico. By starting small and gradually expanding operations in Mexico, companies can overcome any misconceptions about operating here and begin to enjoy all its benefits.

Over the last 20 years, impressive progress has been made in aerospace manufacturing in Mexico, leaving behind the stigma of a "low-cost country" and maturing into an attractive option for aerospace companies looking to gain market share through design and engineering superiority. As of 2019, Mexico's aerospace manufacturing presence includes over 300 companies producing approximately $10 billion in aerospace exports. Though most of the industry is based in the US-Mexico border states, there are aerospace centers across the entire county and clusters that offer the benefit of a ready and trained talent pool as the needs of manufacturers increase.
The aerospace industry in Mexico has grown tremendously over the last decade to provide customers with access to the accessible Mexico labor rates and the entire range of services for running a complete base of operations that includes design, manufacturing, assembly, and testing of the final product ready for delivery. Although 2020 brought an average of 30-50% reduction in production output, companies have undergone a decade of rapid growth.
Over the last two decades, the evolution of the automotive and aerospace industries in Mexico has created multiple centers of excellence across the country, primarily in Tijuana, Sonora, Chihuahua, and Querétaro. One of the most significant changes in the sector has been improved cost and quality. For example, the French multinational aerospace corporation Safran initially thought the country could only support a 50-person operation. Today it employs over 500 engineers solely focused on design. Another example is Honeywell, which currently operates a 1,200 CNCs machining center in Chihuahua.
The cases of Safran and Honeywell are not isolated examples but rather a macro trend in the market. Once companies establish themselves in Mexico, they grow and expand, taking advantage of everything Mexico offers, such as many local aerospace design engineers.
Chihuahua is unique in the aerospace industry in Mexico. OEMs can carry out all the activities in the value stream, from design to manufacturing, assembly, and building and testing an entire aircraft. We encourage companies to visit to better understand the capabilities Chihuahua offers and see Mexican manufacturing abilities and the opportunities the region provides firsthand. This includes everything from manufacturing simple parts to complex metallic structures and aerostructures and machining, fixed-wing and rotary-wing aircraft builds, including special processes and composite and automatic riveting assembly.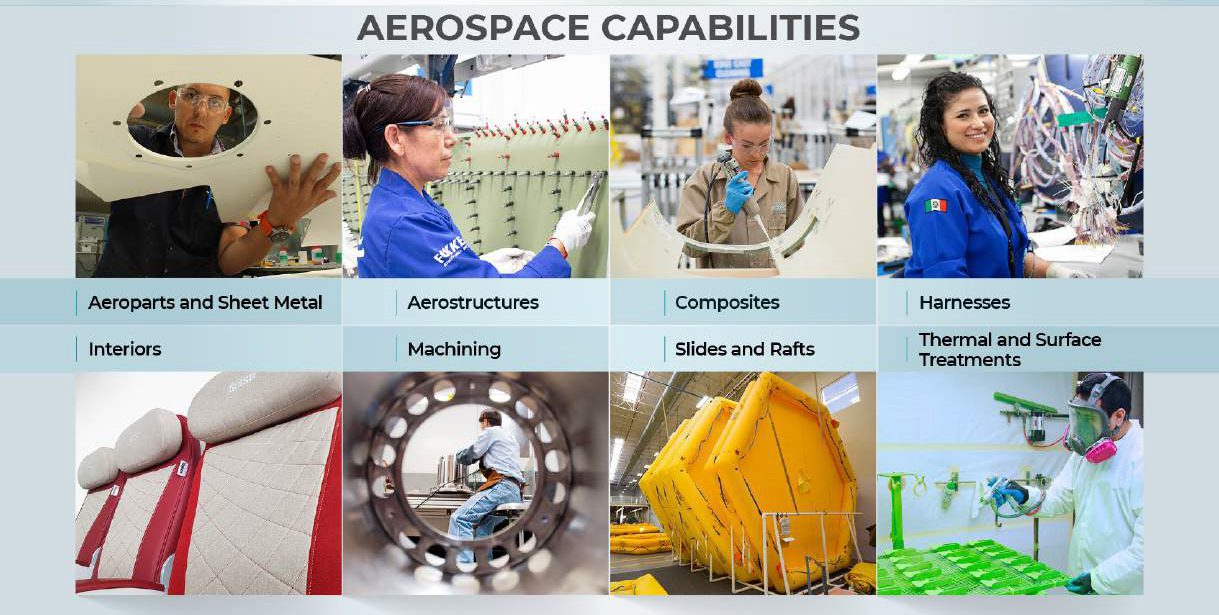 The lean manufacturing principles that drive a modern high-tech automotive plant (DMAIC, PDCA, 5 Why's, 6S) have been transferred to the aerospace community. This combination of quality and lean principles has allowed OEMs to achieve cost reductions and productivity, design, and quality improvements over time.
 These unique factors and history have resulted in Mexico's highly-developed and mature aerospace industry. We invite you to explore the idea of Mexico as a viable alternative or complement to existing operations and find out more about how the IMMEX program and Mexico's labor rates can benefit your company. To learn more about how manufacturing in Chihuahua, Mexico in the aerospace industry can help your company improve its global competitiveness, reach out to schedule a call and visit.